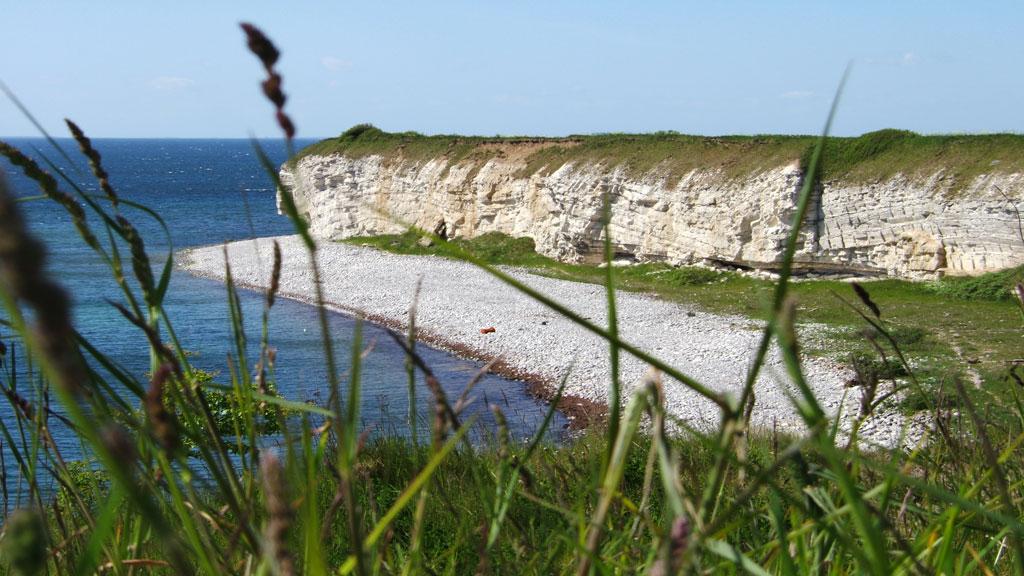 Stevns Klint
Stevns Klint
UNESCO has added Stevns Klint to its list of unique World Heritage sites. And it's just 20 km from Køge & Vallø Camping. So you really shouldn't miss it.
Peace and drama – Stevns Klint is both beautiful and dramatic. On a summer's day, the chalky sea bed paints the sea an amazing blue, while the cliff itself is pure white, topped with green trees. The cliff is strikingly compelling, and legend has it that the Cliff King has his summer dwelling place in one of the caverns there.
For nature-lovers and hikers, the tramping path along Stevns Klint is a great experience.
The path runs as close as possible to the edge of the cliff, offering new views and adventures.
Stevns Klint is a place of great geological importance. In the middle of the white cliff, there is a thin, dark layer of clay, known as fish clay. This clay shows the story of the asteroid that hit the Earth 66 million years ago, causing about half the creatures, including dinosaurs, to become extinct. Experience Stevns Klint and Trampestien along the cliff and also visit the new beautiful visitor center Stevns Klint Experience.
You will want to set aside a whole day for a trip to Stevns Klint. Stand in the church that has dropped off the cliff. Head up to the old lighthouse, Stevns Fyr, which stands on the highest point. Go underground through the many kilometres of tunnels in Stevns Fort, or enjoy the views and watch the birds of prey from the viewing point at Holtug. Of course you won't go home hungry, as there are delightful restaurants in three locations along the 20 kilometres of the cliff: Bøgeskov, Højerup and Rødvig.
You can find a map and more information about Stevns Klint in our reception.
Images & video